Before discussing the top web development companies in India, let's try to understand the importance of web development in today's digital world.
A robust online presence is the most critical aspect of any business in the 21st century, and the most crucial component of a strong online presence is web development. It has become indispensable to running a successful venture and shaping customers' online experience.
Web development is the process of creating, building, and maintaining websites or web applications that serve as a digital door to businesses, organizations, and individuals on the Internet. It is like a digital office and serves as an organizations or individual's digital identity. Growing and expanding your business successfully without web development is impossible in this digital age.
Why Choose Website Development Companies in India?
To create a credible and trustworthy identity online, you require the help of the Best Web Development Companies in India. We live in the world of the internet. The first point of contact between us and a business we want to deal with is a well-designed website. Websites give the customer their first impression of the business.
Therefore, websites have become essential for establishing trust and credibility between businesses and their potential customers.
The Web Development Companies in India are at the forefront of this industry. They have gained global recognition for their expertise, cost-effectiveness, efficiency, and unmatched competence in the most cutting-edge web development technologies. Indian web development companies are helping businesses craft dynamic and responsive websites that cater to a global audience.
From Canada to the UK and New Zealand to South Africa, these companies have conquered the global web development market with their knowledge and proficiency. They help the world harness the power of advanced technology and deliver innovative web solutions that go beyond the conventional boundaries of design and functionality.
Web Development Companies in India understand the importance of developing an immaculate digital identity.  They create websites that not only showcase products and services but also reflect the brand's values and vision.
List of Top 10 web development companies in India
Now that we understand the importance of web development and why a business should opt for Indian web development companies, it is time to list the Top 10 Web Development Companies in India. India is the breeding ground of global technological advancement. We have thousands of web development companies here with exceptional track records and tech stack. Listing all of the companies is impossible. Therefore, after extensive research, we have chosen a selected few to be listed among the best. These companies are the pinnacle of global web development excellence and the epitome of the Indian web development industry.
1. BrainerHub Solutions
Crafting exceptional websites is not enough to get you on the list of the best web development companies in India; you must have that X-factor. BrainerHub Solutions stands as a modern trailblazer in the Indian web development arena, whose X-factor is customer satisfaction and peerless expertise.
BrainerHub Solutions has solidified its position as the leading web development company in India, with over six years of experience in delivering successful web development solutions across 25+ countries.
Their journey is marked by a relentless pursuit of innovation, unwavering client commitment, outstanding transparency, and a remarkable ability to formulate exceptional digital solutions.
Unleash The Power Of High-Performing Teams for Web Development Excellence
2. Tata Consultancy Services (TCS)
Tata Consultancy Services (TCS) is like the Odin of the global IT industry, the All-Father who has seen it all. The list of the top web development companies in India is incomplete without TCS. It is a powerhouse and a beacon of web development expertise.
TCS is the benchmark of not only the Indian web development sector but also the global IT industry. They offer a unique location-independent Agile delivery approach that transcends any other development methodology in efficiency, productivity, and cost-effectiveness.
Their extensive global reach, industry knowledge, and experience enable them to create transformative web solutions that propel businesses toward the future.
3. Wipro
Wipro is one of the oldest Web Development Companies in India with the most revolutionary and youthful approach to web development and IT services. It is synonymous with excellence in IT services, and web development is their forte.
Wipro was established in 1945, and they have a powerful track record of an array of successful web projects as a testament to their commitment to delivering cutting-edge solutions.
4. Infosys
When we talk about the leading web development companies in India, Infosys is an unskippable name. It's a company that has played a major role in taking India to the global tech frontiers. It is a name that reverberates throughout the technology world.
Infosys web development services are underpinned by an unwavering pursuit of technological innovation and a dedication to exceeding client expectations. Progress and advancement are the main characteristics of this tech giant.
5. HCL Technologies
HCL Technologies is a prominent player in the Indian web development landscape. HCL is an all-rounder company that has contributed to the technological growth of a broad spectrum of industries and sectors, including Manufacturing, Telecom and Media, Retail and CPG, and Life Sciences and Healthcare. It consistently earns its place among the top web development companies in India.
HCL Technologies is known for its cutting-edge web development services that transform businesses. Their diverse portfolio and commitment to quality make them a trusted choice in the industry.
 6. Tech Mahindra
Since 1986, Tech Mahindra has been pushing the boundaries of the IT industry and delivering cutting-edge web development services. Tech Mahindra is one of the Indian companies recognized as a global IT leader. They have a long and successful track record of delivering transformative web experiences and solutions for businesses.
Tech Mahindra's extensive expertise in web development encompasses a wide spectrum of services, including web application development, e-commerce solutions, custom web development, and a mobile-first approach, all prioritizing scalability and security. It is one of the Top 10 Web Development Companies in India, with a laser focus on customer satisfaction, long-term scalability, and advanced web solutions.
7. Mindtree
Mindtree is a client-centric web development company that believes in creating empathic solutions and experiences to transform the business landscape. They are committed to pushing the boundaries of what is technologically possible and dedicated to harnessing expertise, experience, and innovation to empower enterprises, individuals, and communities.
Mindtree is committed to eliminating barriers to digital progress. Its core focus lies in business metamorphosis through tech, talent, experience, and expertise.
They are undoubtedly one of the best web development companies in India, whose hallmark is to craft web solutions that precisely align with client needs and benefit society.
8. Cybage Software
Cybage software has been shaping the Indian web development industry for over three decades. The defending characteristic of exceptional web and IT solutions is their data-driven approach with tangible ROI.
Cybage Software is a remarkable company committed to excellence. They continue to shape the digital landscape with their profound thought leadership and unwavering dedication. Their three decades-long experience and in-depth domain knowledge make them stand out in the Indian web development colosseum.
9. Zensar Technologies
Zensar Technologies is one of the best web development companies in India, known for its forward-thinking and progressive attitude in delivering user-centric web solutions with a creative flair. Their primary focus is to deliver innovative, future-proof web development and IT solutions with a touch of empathy. They believe in a  people-first culture and help businesses come up with original and spark fresh ideas that lead to remarkable transformations.
Zensar Technologies emphasizes embracing change, collaborative problem-solving, and a relentless pursuit of client success. They are the embodiment of the relentless attitude for excellence and the spirit of smart connections and fresh directions.
10. Capgemini
Capgemini is another global IT player worth mentioning in our list of the top web development companies in India. They have 6 decades of experience in developing strategic web and IT services. Their hallmark is their contribution, influence, and expertise in the fields of data artificial intelligence, connectivity, software, digital engineering, and platforms. Capgemini empowers businesses to look beyond the present through cutting-edge technologies, shaping a brighter future for their clients and enhancing experiences.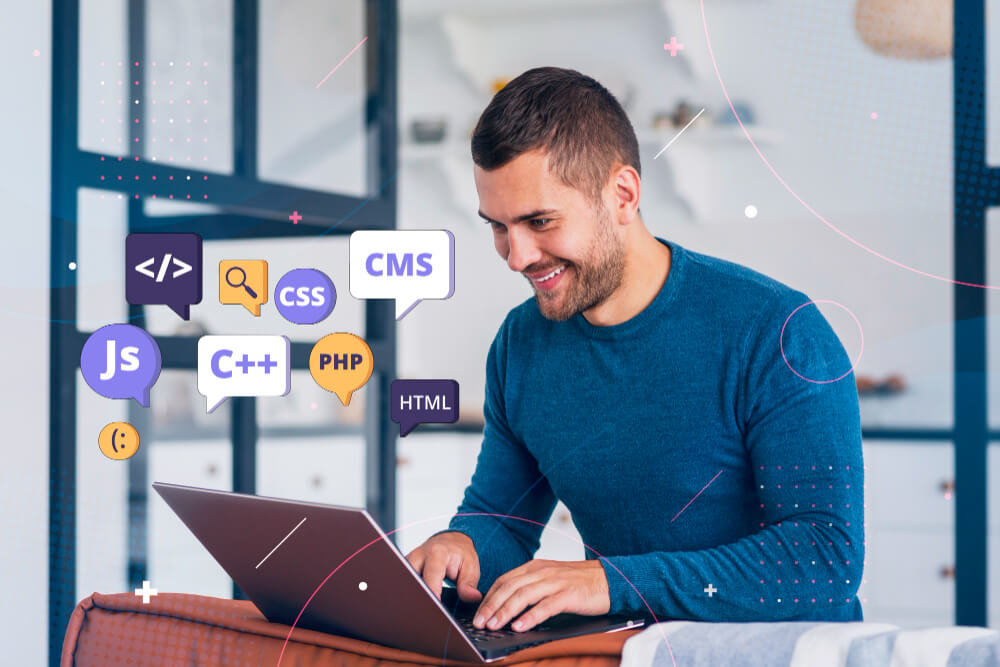 The Types Of Web Development
Web development is not a monotonous endeavor. It is a multifaceted field encompassing various components, each playing a crucial role in building and maintaining websites and web applications. Here are three fundamental types of web development according to the best web development companies in India.
Front-End Development: Front-end development, also known as client-side development, focuses on the visible aspects of a website or web application. Front-end developers use technologies such as HTML, CSS, and JavaScript to create the user interface (UI) and ensure a seamless user experience. In simple terms, the front end is about designing the layout, navigation, and visual elements that users interact with directly.
Back-End Development: Back-end or server-side development is the backbone of web applications. Back-end developers work behind the scenes, handling server logic, databases, and server configuration. They ensure that data is stored and retrieved accurately, user authentication is secure, and the application functions smoothly.
Full-Stack Development:

The

top web development companies in India

have the most skilled full-stack developers. These full-stack developers possess both front-end and back-end development expertise. They understand the entire web development process, from designing the user interface to managing server operations. They can work on all aspects of a project, making them versatile and capable of handling end-to-end development tasks.
What do Web Development Companies in India Do?
Web development companies offer a wide range of services related to building and maintaining websites and web applications. Some of the major tasks and projects web development companies in India undertake are:
Website and web application development.
Front-end and back-end development.
Custom software development.
E-commerce website development.
Content management system (CMS) development.
Web design and user interface (UI) design.
Mobile app development.
Website maintenance and support.
Search engine optimization (SEO) services.
The arsenal of services and the technological stack of web development is usually more extensive. Although the above list does not cover all the services provided by web development companies, it gives a good idea of what web development companies do. The best thing is that these companies collaborate with clients to understand their specific requirements and deliver tailored solutions to meet their business goals.
How to Choose one of the Best Web Development Companies in India?
There are thousands of web development companies in India, making choosing the best one challenging. However, with careful deliberation and consideration of several factors, you can find the perfect fit for your project. Here are the six vital parameters to consider:
Portfolio: Review the company's previous projects to assess the quality of their work and see if they have experience in your industry.
Expertise: Check whether the company has expertise in the technologies and frameworks you want for your project.
Client Reviews: Understand the company's attention to customers and gauge its reputation by reading client reviews and testimonials.
Cost: Compare pricing with multiple other leading web development companies in India and ensure it aligns with your budget and project scope.
Communication: Make sure that the company communicates effectively and clearly and is responsive to your inquiries.
Support and Maintenance: Inquire about post-launch support and maintenance services and make sure there are no hidden charges.
How Much Do Indian Web Development Companies Cost?
The cost of hiring web developers in India can vary widely based on several factors, including the complexity of the project, the developer's experience, and the location and size of the development company. Generally, website development companies in India offer competitive rates and effective services as compared to the rest of the world.
Small Web Development Companies/Startups: $250 to $10,000
Medium Web Development Companies: $500 to $100,000
Large Web Development Companies: 10,000 to Millions of Dollars
The most essential part of web development is to balance the cost considerations with the skills and experience. To ensure you choose the right company every time, you can refer to our list of the top 10 web development companies in India.
Conclusion
Web development is the backbone of your online presence, and without it,
 thriving in today's world is next to impossible. It shapes the way your customers interact with your products and services. A website helps you create a desired perception of your brand in the market.
Time and again, Web Development Companies in India have proven their prowess in delivering high-quality web solutions that cater to a global clientele. As businesses continue to recognize the importance of a robust online presence, web development remains a driving force in the digital landscape. India is at the center of this evolving ecosystem. Indian web development companies have established themselves as leaders in the industry through their unwavering commitment to excellence, innovation, and client satisfaction.
FAQs About India Web Development Companies
How to Start a Web Development Company in India?
The guide to starting a web development company in India would require its own book. However, we will try to give you a gist of it:
Research the market and choose a niche.
Create a solid business plan, register your company, and set up your office.
Hire a skilled team and build a portfolio showcasing your work.
Focus on marketing and networking to attract clients.
Determine your pricing strategy and use clear contracts.
Ensure quality assurance and prioritize client satisfaction.
This is a simple outline of starting a website development company in India.
What Technologies Do Web Development Companies Use?
Web development companies use a wide range of technologies and tools depending on project requirements. Some common technologies include:
Programming Languages: HTML, CSS, JavaScript, PHP, Python, Ruby, Java, C#, and more.
Front-End Frameworks: React, Angular, Vue.js, Bootstrap, and others.
Back-End Frameworks:js, Ruby on Rails, Django, Laravel, Express.js, and more.
Content Management Systems (CMS): WordPress, Drupal, Joomla, and custom CMS solutions.
Database Management: MySQL, PostgreSQL, MongoDB, SQL Server, and others.
Version Control: Git and platforms like GitHub or GitLab.
Web Servers: Apache, Nginx, and Microsoft Internet Information Services (IIS).
Cloud Services: Amazon Web Services (AWS), Microsoft Azure, Google Cloud Platform (GCP), and more.
Development Tools:

Integrated Development Environments (IDEs), code editors, and project management tools.
How Do Web Development Companies Ensure Data Security?
Every web development company in India cherishes its clients and gives top priority to their data security. Ensuring data security is one of the most paramount concerns for web development companies, and they employ several strategies to achieve this, including:
Encryption: Implementing encryption protocols (e.g., SSL/TLS) to secure data transmission between users and servers.
Access Control: Enforcing strict access control measures to ensure that only authorized personnel can access sensitive data.
Regular Audits: Conducting regular security audits and vulnerability assessments to identify and address potential threats.
Data Backups: Regularly backing up data to prevent loss in case of system failures or cyberattacks.
Security Policies:

Developing and enforcing security policies and procedures to govern data handling and access.
By implementing these measures, web development companies in India protect sensitive data and ensure the security of their clients' websites and applications.